Our girls feel loved and happy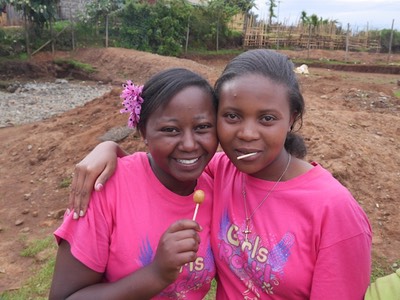 Elburgon was once a thriving town based on the timber industry, of which there is ltlle left. Environmental pressure to protect forests and new governmental controls forced the closure of many sawmills, amnd literally overnight the hotels, buinesses and employment collapsed. The Kasarani slum area was badly affected, and with high unemployment, conditions deteriorated for all who lived there.
Mary is sponsored by Knutsford School, Watford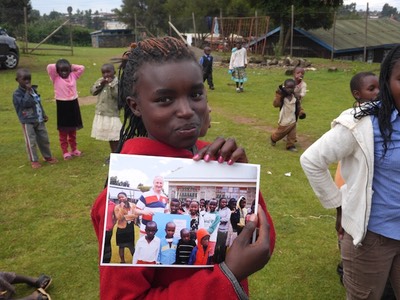 Kasarani is home to over 10,000 people and exudes hopelessness and desperation. Food is in short supply and people live in communal, hand built wooden shacks with shared toilets and no clean water. there is little or no healthcare, and the region has been hit hard with HIV/AIDS. With communal living in extended families there is a high rate of sexual abuse by elder siblings and relatives on young boys and girls. It is a common practice for young girls to earn a few Kenyan shillings by selling themselves for sex to help their starving families who may not have eaten for a few days. There is little law and order and children are highly at risk.
Emily, our house Mum, smiling in the background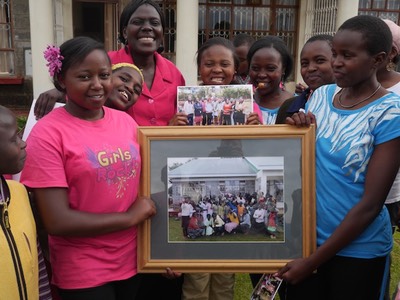 The late Mary Mwangi, a bank employee in Nakuru, had seen the desperate needs and started to visit Elburgon regularly with second hand clothes and food supplies. Together with her husband Moses, they started a small initiative amongst friends to increase this assistance with an eventual dream of building a home to rescue some of the most vulnerable girls in Kasarani. A year before their tragic death together in a car accident, they had taken Eagles Wings trustee Bruce Oliver to visit the slum and meet some of the girls and their families.
Some of our younger girls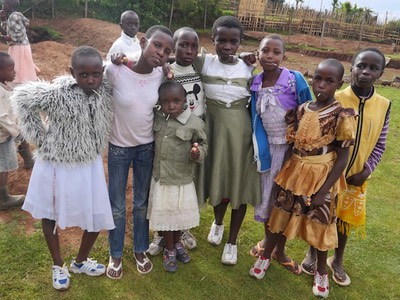 With the launch of Eagles Wings as a charity in 2004, Eagles Wings partnered together with long-term friend Mark Kariuki to build a home for young girls in the town. Mark was born in Elburgon and lived there as a young boy. It was essential that we had local support and he helped us identify land, community leaders, vulnerable families, an architect, local builders and suppliers who could make the project become a reality.
Together, Bruce and Mark cut the turf in 2004 for our first overseas project and we released funds given by UK schools, businesses, other charities, churches and individuals to start the building work.
Learning how to build a girls home
This proved quite a challenge! Working in another country that works in cash and not credit made it difficult for us to manage and control expenditure. We had to rely on our Kenyan friends to honestly pay legitimate bills for supplies and services. Building on a pay-as-you-go basis has definite advantages for cash flow, but the escalating expenditure as we built up tested us as trustees, and our desire to keep accurate records without available paperwork was a great concern. With an initial estimate of £25,000 for the whole thing to be completed within one year, we soon realised it would be nearer £40,000 and completion in two years.
It did take us some time to resolve our cultural differences. It was nearly a year before I realised that they were building a 'Rolls Royce' orphanage to please me, a westerner, rather then the functional and simple accommodation I had in mind! Feeling that we had made good progress and had learnt a lot on 'how to build a girls home', I now look back and laugh when I arrived to officially dedicate the home, only to find that there were no waste pipes in place nor a septic tank! The builders were too emabarrased to ask for more money because I had made such a fuss over the additional funds we had to send over.
Sharon Oliver with our social worker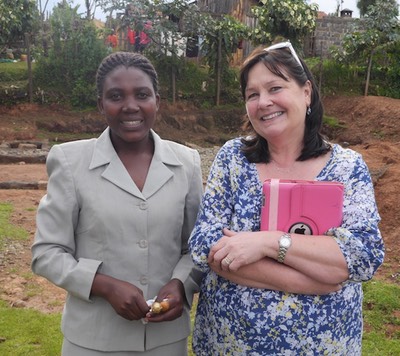 The final challenges concerned the Kenyan regulations for children's homes, and the stamp of approval by the authorities that was required to officially house vulnerable girls. I was presented with a multi-page document with very demanding stipulations that would require onerous health and safety features and huge additional expenditure. This included an array of staff and the requirement to build a high security wall around the facility which would cost many thousands of £ pounds and make it almost unworkable.
We finally worked our way through this and received our full approvals, but I was suprised at such a last minute obstacle when literally hundreds, if not thousands of children, around our building were suffering so much. I felt aggrieved that our genuine help and commitment to rescue 40 girls was made so difficult. It wasn't as if we were building a wooden shack without appropriate facilities.
Choosing our Girls
I had not envisaged how difficult it would be to select 40 girls who were at risk and vulnerable! I stepped back from the selection process and left it to local community leaders, church leaders and families to put together the final list. Not surprisingly, we had to scrutinise each tragic story and sift out those who were being proposed only to gain from our benevolence, and who were not in real danger. I do believe, having talked this through with our partners, that we made the right choices.
Decorating and managing the home
It is definitely a 'home'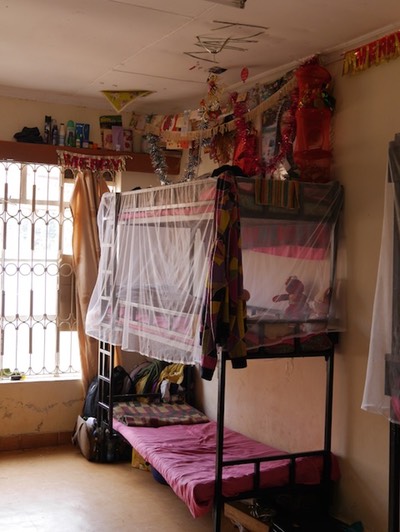 One of my ambitions, for any home that Eagles Wings would build or sponsor, was that it should be a real home and not have the 'orphanage' stigma. On opening day we took a team of friends and supporters loaded with posters, gifts, toiletries, blankets, books and musical instruments to make the 'Moses and Mary Mwangi House' a real 'home'. On subsequent visits, I have seen our teddies, Disney princesses, Christmas cards and gifts treasured at the end of each bed.
We always receive a warm welcome in Elburgon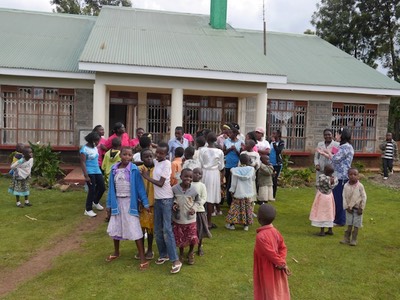 We now have a full complement of staff who care for the girls, cook and manage the building and site. We have a resident social worker, and perhaps above all our House Mum- Emily. Alongside the on site team, we have a  local pastor John, from Bishop Mark's group of churches, to cover spiritual needs and a management and consultation board who oversee the wellbeing of the girls, their schooling, education and their future, once they reach 18 and are legally adults who can make their own choices.
Running Costs and Self-sufficiency
I estimate that it costs about £20-£25 per girl per month to keep our girls home running efficiently, with a balanced diet and good social care for every individual. Costs rise with age as Secondary school fees are higher and vocational courses are pursued. We wanted each girl to realise her potential in education and thankfully Bishop Mark promised that one way or another they would make that commitment right at the outset when we opened the doors of the home. This has been a big undertaking for our Kenyan partners but they have been true to their word and made funds available.
We are now 10 years on from cutting the first piece of turf together in Elburgon, and together with our Eagles Wings supporters who give regularly, and other sponsors who support the project, we are proud of our achievements.
To help with this process and to reduce dependency on Eagles Wings funds, we purchased 5 acres of farmland about a quarter of a mile away from the home. We decided to grow maize, beans, carrots, potatoes, onions, cabbages and tomatoes that could be sold commercially to supplement our donated income. With help from an agricultural specialist we have learned about crop rotation and maximising productivity. We still have a way to go but with an all year round stream at the foot of our land and a newly built greenhouse for tomatoes and capsicum, we are on a good path forward to reduce costs. In the house grounds, we have an array of goats, chickens and cows which provide the home with daily milk and eggs.
Summary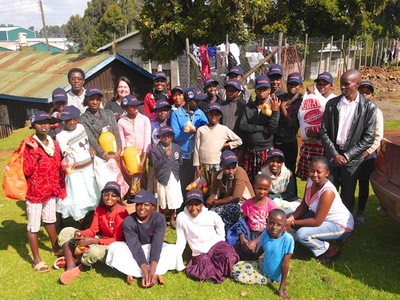 This has been and continues to be a success story. We are proud to have been part of the fulfilment of Mary Mwangi's dream. We are indebted to the work and support of our partner Bishop Mark Kariuki and his staff, who have faithfully managed this project in Kenya from concept to realisation. We have learnt so much in the process, and many of our UK supporters have stayed with us from the beginning and faithfully donate monthly to make life better for 'our girls'.