Emergency Relief
The tsunami devastated the homes and livelihoods of thousands in India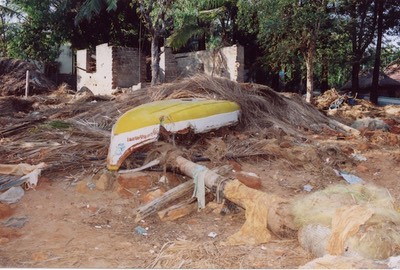 The quick response to the Nepalese earthquakes in 2015 is typical of the work that Eagles Wings can do. Within just a few days, funds were sent to specific people on the ground who can then, in turn, mobilise others. The  most important thing is for the money to be properly accounted for and for it not to get bogged down in bureaucracy. With good feedback and photos of our chosen partners in action, donors feel that their money is making a difference to real people quickly- and it is.
Eagles Wings responded in a substantial way following the tsunami that hit the East coast of India in 2007 and took responsibility for over 200 orphaned children. Trustee Bruce Oliver visited the beach area and was able to see first hand what was actually needed. Although just a small contribution in the bigger scheme of humanitarian aid following the disaster, these childrens' lives were changed for good, thanks to the generosity of Eagles Wings supporters.
In the last two years Eagles Wings has made grants to help the South Sudan refugees who fled from war in their own country and have been displaced to special camps in northern Uganda.
Food to the hungry
Bruce with UK volunteer Russell buying rice for orphans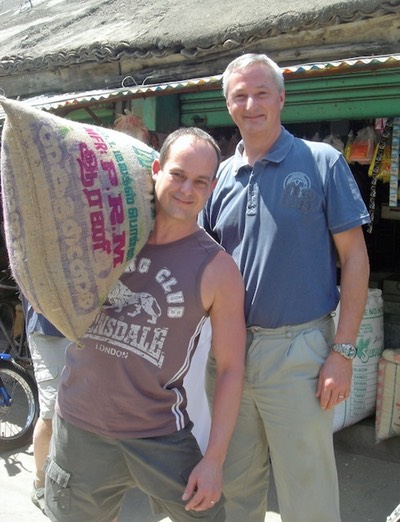 One of the targets here is for Eagles Wings to identify genuine need. For example, people who live in difficult conditions in refugee camps will always claim hunger despite being fed daily by UNHCR programmes. This is the case with the South Sudanese refugees who have fled from conflict in their own nation and have found refuge in Northern Uganda. Our food aid here has been limited and targeted to the elderly, pregnant mothers and babies, and very young children.
In contrast to this, the Turkana people living near to Lokichoggio, Kenya are starving to death with little or no agencies helping them, particularly in the dry season. The difficulty here is the mind-set and culture of the dominant men who have considerable wealth invested in cattle but are not willing to sell them to feed their own wives and children. Short term aid to mothers can alleviate suffering, so that they can feed their children, but longer term self help and vocational skills training needs to work alongside the immediate food relief.
Some people just live right on the edge, barely existing. Over the years, where such situations have been found, Eagles Wings will dig deep to feed the genuinely hungry.
Clean water
Water from a bore hole refurbished by Eagles Wings for the Turkana people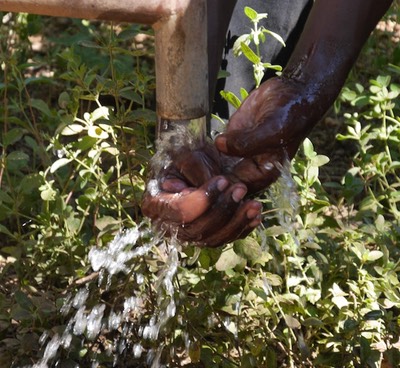 There are a number of specialist charities who do an excellent job drilling bore holes and providing clean water to remote communities. They are better equipped and financed to do this than us. However, where there is genuine need and such an option is not available, then Eagles Wings will consider how clean water can be supplied. In Lokichoggio, Kenya, for example, this involved refurbishing an existing plugged up water bore hole on adjacent land, with the landlord's permission, and benefitting a wider group of people than those we were originally seeking to help.
Drilling a water bore hole for orphans in TN State, India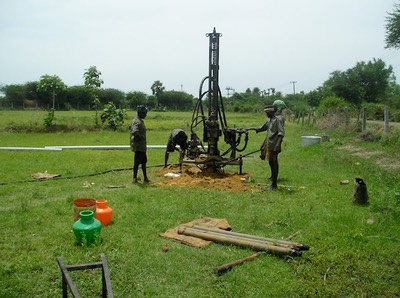 In Yelambakkam, India there was no safe or clean water within some miles of our newly built childrens home, following the tsunami. In this case, Eagles Wings, employed professionals to drill and supply water to the 4 acre compound and allow access and provide free water to the neighbouring villagers, who were drinking unsafe water.
Clothing to the naked and poor
This young boy was completely naked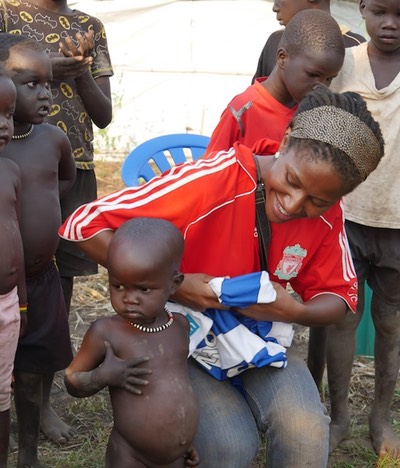 It was on a visit to the Nyumanzi refugee camp in Adjumani, northern Uganda that this became a reality and our team of volunteers began to clothe very small boys and girls who either had no clothes on or were dressed in literal tatters. Many of them ran for their lives from advancing soldiers in South Sudan and that was all that they owned. Boys and girls football shirts and shorts donated through the Kit-Aid charity in Hatfield became perfect lightweight protection from the intense sunlight and within a few minutes we were overwhelmed by children handing in their rags for a decent swap. Check out the YOUTUBE video which shows what happened.
Every trip made by one of the Eagles Wings trustees or accompanying volunteers uses maximum baggage allowance and tops up normally with childrens clothes for Ukraine, Kenya, Uganda, Russia and India.
Care of the sick and vulnerable
This woman is paralysed down one side and arrived on a bicycle for free treatment at a medical camp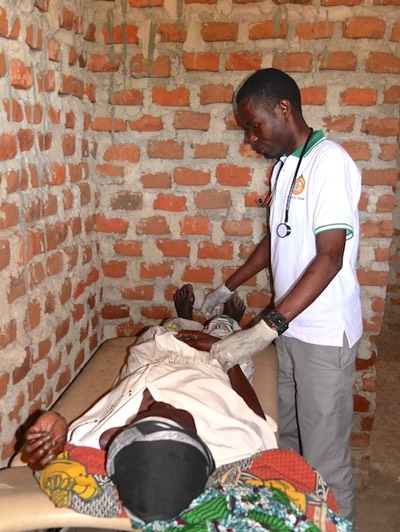 It was our first visit to the Kasarani slum in Elburgon, Kenya that really challenged us into action. Seeing young boys and girls living in extended families who were wide open to abuse by older family members, was deeply shocking. Living in extreme poverty, with little hope of employment, some of the young girls were selling themselves for sex for just a small amount of money to buy food for the family. Something had to be done by somebody, but who would that person be?
This prompted discussions with our Kenyan hosts and a partnership plan was devised to build our first girls home to rescue 40 from such awful conditions. The rest you can read under the 'Elburgon Story' tab and see what was actually achieved.
Eagles Wings has tried to target help to such vulnerable groups and a number of individual sponsors support HIV widows, babies, nursing mothers, and individual girls at a typical rate of £10-20 per month, as they can afford.
Teaching and training
UK volunteer Colin Green training locals in woodwork in Nyumanzi refugee camp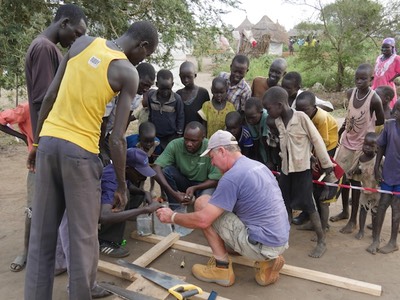 Eagles Wings was invited to a fund raising function at the Ugandan High Commission in central London some years back. This was our introduction to the Thare Machi charity which has done so much to educate people in an interactive way on subjects such as: Basic hygiene, healthy eating, safe water, looking after your teeth, when to have a baby, breastfeeding, HIV/Aids, having an HIV test, living with HIV, high blood pressure, avoiding malaria, cholera, TB, diarrhoea, the dangers of smoking and alcohol. They have been translated into multiple languages and Eagles Wings has used them to great effect in Kenya, Uganda, Mozambique and India.
In addition, Eagles Wings has volunteers and supporters who have worked and are still working in the Health care sector. Nurses, doctors, midwives and consultants both here and overseas have all offered their services to the charity and participate in teaching and training seminars on a range of health topics and give advice to the charity.
Health clinics
Our first Mobile Health Clinic in Nebbi, northern Uganda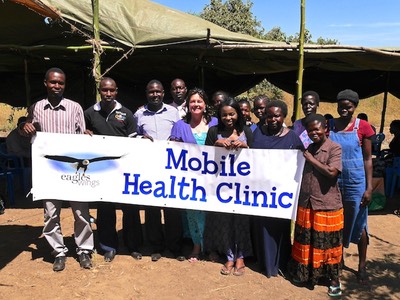 During the construction phase of the Nebbi maternity clinic in northern Uganda, Eagles Wings took opportunity to meet the local villagers who live around the centre and offer a free medical camp, health checks, blood pressure, ante-natal care, pregnancy advice and eye tests. This was the first Mobile health clinic that we had participated in and was praised highly by local community leaders. It was held in the shell of the new maternity centre to protect people from the blazing sun.
Visiting prisoners
One of a number of prisons visited by Bruce in Southern India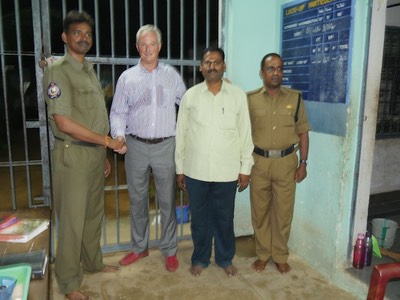 Perhaps for some, a subject that provokes a strong negative reaction, but over the last few years trustee Bruce Oliver has taken opportunity to visit a number of prisons in the UK, Nigeria, Argentina and India to good effect. Conditions outside of the UK can be absolutley dire, with gross overcrowding and chronic care facilities for any with mental, physical or emotional issues. On a recent visit to India, Bruce was able to meet men who had never received a single visit from even a family member and had been totally ostracised by causing shame on their family name. Simple words of love and care, a banana, some toothpaste, a toothbrush and some biscuits melted the hearts of many and positive change noted by their guards on return visits.