This is where it all started
Land registration complete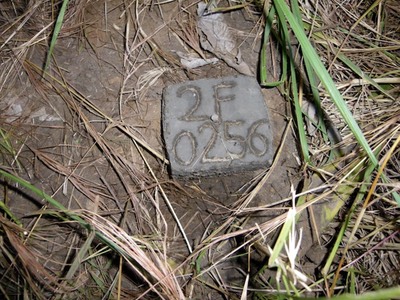 Foundations ready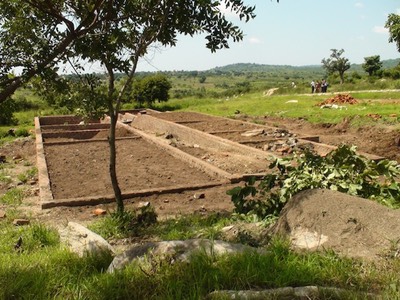 Local labour was used for the foundations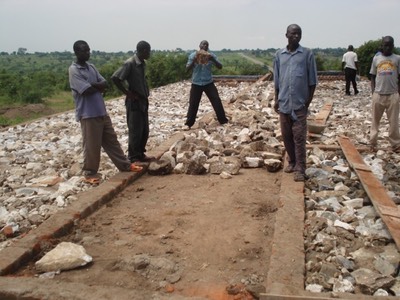 Making the committment to build a maternity clinic is relatively easy. Its the long process of choosing an architect, finding trustworthy local partners, selecting a reliable engineer and working with unskilled local labour that presents the challenges.
We feel that we have been at this for ages but writing this update in early 2015, at long last believe that we are getting there.
The maternity centre has walls, a roof, windows, glass and doors and right now has water being connected from the local town and a plan in place for the supply of mains and back up electricity.
Simple things in the West, but every bucket of water used to mix the cement has been carried about 200 metres on somebody's head to the site and every rock has been broken up by hand to lay the foundations.
We hit a snag with the architect drawings which had not allowed for the 5 foot drop at the end of the building due to the lie of the land. Our resourceful engineer Lawrence designed a ramp and canopy, and extended the roof so that the new mothers and babies were not launched into space after discharge!
Stone dedication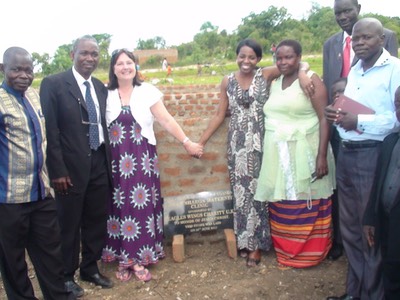 All along the way Stella and the local Womens Community leaders have been there to encourage, dance, sing and supply food to weary workers and for our regular visits.
We have taken out large numbers of aid bags containing much needed men's clothing including trousers, shirts and T shirts. Many of the local builders were literally working in rags when we started the project, such is the poverty and desperation in this remote part of Uganda.
I am pleased to say that the toilets are functioning towards the back of the land. These will be used by visitors as the maternity centre will have a strict protocol on access and staffing to prevent the spread of infection.
The doors and windows should be secured in January 2015. A number of attempts have been made to open our locked secure room which contains tools and equipment required for the next stages. This is a great disappointment and sadness to us but perhaps shows the extreme measures that hungry, desperate people will go to.
One day as we were driving from Nebbi town to the clinic, a great fountain of water was spraying over the road. The mains water line had sprung a leak. Until this moment, we had been planning to drill a very expensive water bore hole on site. Our enterprising engineer realised that mains water was much closer than we thought (about a kilometer away) and it would save money and time to pay for the connection and piping. As we speak, the water mains is being extended and this will  not provide our maternity centre with water, but will also benefit the local community that live around us.
Just to the left of the clinic building as you look at it from the road, two giant wooden poles have been erected. Once again, it isa great blessing and a complete surprise to find that Ugandan Power are getting on with the supply of mains power from Nebbi to Pakwach- right past our clinic
 Although power cuts are a feature of life in Uganda, this will save us money and we will only have to rely on generator back-up for emergencies and to maintain 24 hour coverage.
We are currently finishing off the internal water fitments, toilets and drainage ready for the water, and have agreed the power and lighting requirements for each room.
On our last visit, a detailed survey was completed room by room and we are working with a professional team to make sure that we have covered all the building and fabric needs ready to open our doors in 2015.
Much of the simple equipment such as beds, delivery couches and drip stands will be made and supplied by local companies based in Uganda and these can be delivered within 7-10 days of ordering.
Perhaps our biggest challenge lies ahead as we establish protocols for the management structure of the clinic, the maintenance of the buildings, the finances, clinical excellence, staff training, health and safety measures and so on. These are in process at the moment and I am delighted that we have qualified professionals both in England and Uganda who are voluntarily giving their time and expertise free of charge to put something in place for us that will survive the test of time and the known problems of corruption in this region.
A huge thank you from me to those who have given so much time and energy to this absolutely essential project which I hope will be operational this year.
Bruce Oliver
Eagles Wings Charity Director.